We believe toxic candles are as bad as toxic relationships.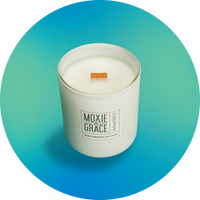 100% All Natural Wax
---
Benefits
Creates less soot than other waxes
Does not emit toluene (a mixture added to gasoline!)
Gluten-free, toxin-free, paraben-free, and phthalate-free
Comes from renewable resources
Contains only FDA-approved ingredients
Made in the USA!
Sustainable Wood Wicks
---
Benefits
Eco-friendly
Clean-burning which means you'll see some smoke when you burn our candles. Smokeless flames (aka blue flames, like the ones you get from propane) use harmful chemicals to create this effect
Made from FSC certified wood
Comes from renewable resources
Handcrafted in the USA!